Flight Delayed at Dubai Airport? These are Your Options to Stay and Snooze
On Thursday, many passengers travelling on Air India flight from Dubai to Mumbai were stranded for 24 hours at the airport. Some took to social media to express their ordeal and dissatisfaction with Air India. There are conflicting versions on the number of passengers who were provided accommodation and other services.
Unfortunately, technical issues with airlines and aircraft have been all too common these days. In my knowledge, only EU has a passenger-friendly policy against flight delays and cancellation. For the rest of world, the passengers are left at the airline's whims.
Flight delays can be particularly inconvenient for the elderly and those travelling with little kids. Further, in a transit airport like Dubai, visa and immigration rules can also pose a problem.
With this background, I am writing this post. If your flight in Dubai has been delayed substantially, these are the options you can consider.
Check Your Visa
UAE has agreements with several countries wherein you either do not need a visa or can be provided visa on arrival. You can click on these links to see the countries
Additionally, visa on arrival can also be provided to Indian passport holders who have a permanent residency or long-term visa from US, UK or EU (Schengen).
Finally, there are multiple-entry visas as well. Although these are more expensive compared to single-entry visas. You can see prices here.
If you flight has been delayed a lot (say 12+ hours), and your visa situation allows you to clear immigration, do that. There are several hotels near the airport and can be booked on any OTA. You will find options at nearly every price point.
Dubai International Airport Hotel
DXB Airport has a transit hotel – Dubai International Airport Hotel. Rooms are available at Terminal 1 and Terminal 3. You will not need to clear immigration to stay at the hotel. This is mentioned on their website
This hotel is large compared to other transit hotels I have seen. There are 5 Royal/Presidential Suites, 9 Executive Suites, 38 Executive Rooms. 14 Junior Suites, 22 Superior Deluxe Rooms, 253 Deluxe Rooms.
You can check availability and book rooms here. 
A word of advice. Please confirm the concourse and the gates which will be most suitable for your flight. While travelling between concourses is possible, it can be a long walk.
If you cannot exit the airport, this is the best option you have. However, this will come at a price. Check with your airline if they can cover costs of staying here (if airline delays are the cause).
Airport Lounges (Premium)
There are several lounges at DXB Airport. However, you should expect those that can be accessed with Priority Pass, Lounge Key, Visa Infinite, Dragon Pass etc. will be crowded. Unless you are extremely lucky, chances of finding a place to rest for several hours are remote.
You could consider some of the premium lounges that are available for a price.
Emirates Business Class Lounge (Terminal 3)
You can visit Emirates Business Class Lounge even if you are travelling economy by purchasing an access. Emirates Skywards Silver members can access the lounge free of cost. Skywards Gold and Platinum members can even bring guests along.
Even if you do not intend to credit your miles to Emirates Skywards program, you should still create an account. The charges for accessing the lounge is $120 for Skywards members and $150 for Non-Skywards members. The maximum duration of stay is 4 hours.
Ahlan First Class Lounge (Terminal 1)
If you are in Terminal 1, you are unlikely to do better than Ahlan First Class Lounge. For a complete review, read my previous post. I have used this a few times and this lounge has plenty of empty space. There are a few extended couches in this lounge if you want to nap for a bit.
Ahlan First Class Lounge – as the name suggests – is open to first class travelers flying on Air France, Oman Air, Royal Jordanian, Singapore Airlines and Kuwait Airlines. The exceptions are Air India, British Airways and Swiss among others.
You can also book this lounge through LoungeBuddy from $39 using this link. The receptionist had told me a rate of AED 89 which is a bit lower than $39.  If you have a Diners Club Credit Card, there is complementary entry to the lounge.
Sleep 'N' Fly (Terminal 3)
I will let you in on a secret. On second thoughts, this was a secret about 2 years back.
Terminal 3 (Concourse A) has a great sleeping option called Sleep 'N' Fly. Sleep 'N' Fly offers enclosed sleeping spaces called 'Igloos'. You can think of it as a business class seat or a very tiny hotel room.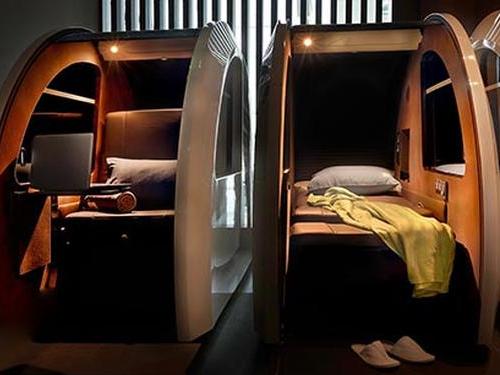 I have used this a few times when I had long layovers or unexpected delays.
The sleeping pods can be accessed with LoungeKey, Priority Pass etc. However, the maximum duration is 2 hours. If you want to pay for access, rates start from $29 for 2 hours. In the past, I have been able to combine the free allowance from LoungeKey and a paid stay to get 4 hours of sleep.